Hey –
My name is Jennifer Rios and I have had MS for 16 years.  I am currently wheelchair bound and do not like how this disease has changed my life.  I am now working to change how I deal with the difficulties I face every single day with having this diagnosis to make life a little more bearable.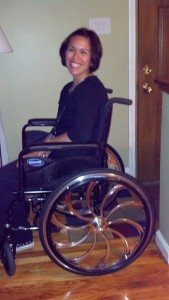 If you're wondering where I got these SWEET rims, I went to spinlife.com and searched "rims." They have 7 different pretty stylin' rim options.
I got my first views on my blog on November 11, 2013.  19 days later, at 10:30 pm, I got 1,000 views.  May 11, 2015 I got 5,000 views.  November 18, 2016 I got 7,500 views.  November 15, 2017 I reached 10,000. 😍🤗😍🤗😍🤗 THANK YOU to everyone who has taken the time to read my words!!!  THANK YOU for all of your WONDERFUL comments!  I've approved them ALL!!!  To know that this many people think my story is worth reading is EXTREMELY humbling!
THANKS FOR READING!!!
Be sure to scroll all the way down on this page and enter your email address to Subscribe to Blog via Email so I know who my readers are.
THANK YOU SO MUCH!!